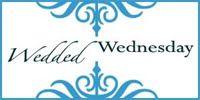 Wedded Wednesday is a collaboration
of married bloggers sharing their inspirations,
anecdotes, struggles and thoughts regarding
the amazing union of two separate people, as one.
Check out the other Wedded Wednesday bloggers at Marital-Bless
This post might across as a bit of a tirade but it's really not meant to be. It's merely that Hubs and I have been getting a lot of "advice" these days on what and when people think we should do things... Some of it is excellent wisdom, some of it is opinion and some of it is downright annoying frankly. Sometimes people have very good intentions (at least I hope) but don't have a clue what they're talking about. I'm sorry if that comes across a little strong, it's just seemed like we've been getting a lot of that last one lately. I feel like Hubs and I might have "clueless" stamped across our foreheads or maybe "divine baby makers" or even "marriage dropouts"! My personal favorites (not) are when couples who have been married for less time than we have will offer up their "sage wisdom" when they are still clearly in their honeymoon stage!
Really I'm not sure why it's been coming in thick lately. Hubs and I feel like we are in a great spot in our marriage, get along 99% of the time, the other 1% is merely miscommunication, starvation or exhaustion as the contributing factor and it's never around other people. We don't talk negatively about each other (or our marriage or even life really) in front of others and we're generally pretty laid back and easy going about things. Maybe it's the fact that we're moving into a new house?
Now, don't get me wrong, we always appreciate advice from those close to us: parents, grandparents and close friends. I love that we have these valuable resources close at hand! I welcome wisdom from those who's character I trust. It's just that, if I don't know you...I really don't need you launching in a tirade on my biological clock or telling me my marriage will fail and that we're doing it all wrong. If we're only casual acquaintances, I don't need you to think you need to "teach" me on natural family planning (particularly if you're a guy!!!!!). If the hubs and I want to do something a certain way in our house, don't take personal offense that we didn't stop to ask you first. And finally, just because I come from a large family and got married young and am happy, does not entitle individuals to inferiority complexes and generously dolling out snippy critical opinions!
*Phew* ok, I feel better now. :) For those of you who've been married for five years or less, do you get this a lot? For those of you who have been married longer, does it get any better?