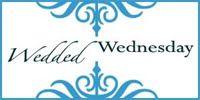 Happy Hump day! Gosh I'm so glad it's Wednesday! The weekend will not be here soon enough! Hubs and I got back from Chicago last night and the combo of the time difference and sheer exhaustion from walking ALL over the city made getting up this morning extremely difficult. I am officially pooped sitting back in the office, I nearly fell asleep three times driving to work this morning!
To top it off, my family returns home tonight after being gone for nearly two weeks up in Maine. The pets will be extremely happy to have them back home as I'm afraid Hubs and I have been a poor substitute for all the loving and attention they got from the kiddies all day long.
There is something to be said for settling back into a routine at home, after being gone. I think I am becoming a homebody!
Hubs and I have always loved traveling and seeing new places together, getting away from the craziness of life and going somewhere new always seems to be just the magic touch our relationship needs. It's always such a lovely chance to reconnect and focus on each other.
We spent lots of time in Chicago just strolling around and holding hands. :) It's amazing how relaxing that can feel. But we always come back feeling like zombies, whether we allow an extra day for recuperation or not!
We easily walked 10ish miles every day and boy is my body feeling it. My back and hips started screaming at me on vacation, so much so that I think some yoga and major stretching will be in my near future. Man I'm getting old!
It was fun coming back to all of your lovely comments and questions in my inbox, I plan to start drafting a post tonight along with some Chicago recaps if you're interested! And if you haven't left me a question or two yet, please check out
this post
and leave one, it's been so fun to read what you guys want to know!