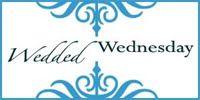 Wedded Wednesday is a collaboration
of married bloggers sharing their inspirations,
anecdotes, struggles and thoughts regarding
the amazing union of two separate people, as one.
Check out the other Wedded Wednesday bloggers at Marital-Bless
Do you ever have goals that require action from others in order for you to achieve them? I seem to have a lot of these goals in my professional and personal life. They are often the most frustrating for me because if the action from the other people isn't timely or done in the correct manner, you end up stuck!
Marriage is often made up of many of these types of goals, don't you think? When Hubs and I put our heads together and make our goals joint, it flows a lot more smoothly vs. when I have a goal that requires action on his part but my goal is not necessarily his goal and thus might not get done when/how I want it done. Does that make any sense? It comes down to the marriage essentials of teamwork, communication & compromise. Funny how much of marital life seems to boil down to one of these essentials (which in turn I think boil down to love and respect).
For example, we both have a goal to pay off all our student loans, but how and when we, as individuals, might achieve that goal can definitely vary. Life flows so much more seamlessly when we communicate and create these goals together but it can be depressing how easy it is to veer off into our own personal methods of achievement. Hubs is relentless when he has a goal...He decides on a goal and it's going to get done and he won't rest until then. Sometimes it can be exhausting being on his "team" because it can feel like an obsession. I, on the other hand, tend to go through spurts, I'll be relentless for awhile, get exhausted from the constant so I get a bit too lax and need to straighten back up again. This method can drive Hubs crazy because it ends up all over the place.
There's a happy medium in there somewhere and I'll let you know how long it takes us to reach that point!
A similar example is our method of cooking/clean-up. One of our unspoken rules is that if one person cooks, the other person cleans up. Or, if we both cook, we both clean-up. Early on in our relationship we discovered a slight problem with this agreement. I would cook and so the dishes would be left to Hubs. He would always do the dishes, they just would get done on his time and not mine. This would become a problem when it was time to cook the next meal and the dishes weren't done. Plus I hate walking into a messy kitchen. It would sometimes turn into me cooking
and
cleaning-up just because it was hard for me to relax with the mess sitting in the other room. He in turn would get mad at me for doing the dishes just because I couldn't accept his timetable. :) Thankfully we went through that a lot
before
we were married so we tend not to have it crop up as much now. Gosh that seems like a lifetime ago!
We hit a really big goal over the weekend in paying off another student loan, we're poor as church mice now and will be for quite awhile but it took a whole lot of combined efforts to have gotten this far so we're trying to come up with a way to celebrate (cheap or even better for free) and recognize each other for making our goal! What's one goal that you've met that you're really proud of and that required effort on someone else's part?