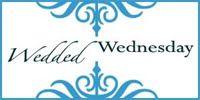 Wedded Wednesday is a collaboration
of married bloggers sharing their inspirations,
anecdotes, struggles and thoughts regarding
the amazing union of two separate people, as one.
Check out the other Wedded Wednesday bloggers at Marital-Bless
Do you'll know that one in five divorces cite facebook as the cause?
I know when Hubs and I first heard that statistic we weren't surprised (in fact, it more felt like a thought we already had was validated!) but then again, we've seen the dangers of facebook and other social networks played out in several of our friends lives.
Does that statistic surprise any of you?
I admit it's just one more encouragement for me to delete my facebook account altogether. See
this
fantastic post for many of the other reasons why, I couldn't have written it better myself.
The only things keeping me on there is the few select people that I would have no other way to contact and the ability to schedule events.
I've heard of couples holding joint accounts or setting up family pages rather than maintaining invidual accounts. We haven't gone that far yet (we both have individual accounts but often times are too lazy to switch back and forth) but who knows, maybe once we have kids?