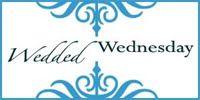 Wedded Wednesday is a collaboration
of married

bloggers

sharing their inspirations,
anecdotes, struggles and thoughts regarding
the amazing union of two separate people, as one.
Check out the other Wedded Wednesday

bloggers

at Marital-Bless
This week I encourage you all to find a place of contentment in your relationship/marriage. It's so easy to always be looking towards the next big step/milestone. When we get a house, when we have kids, when we have money, when our debt is paid off, when school is done, when we have the right jobs, etc... It's easy to get stuck in this mental trap and often results on missing out on the day-to-day joys in life and in our relationships.
With all of the constant craziness that seems to take over our lives, it can be so easy to get caught up in it all and just hang on, wishing for it all to be over. This is definitely something that Hubs and I often feel convicted of. We try to make a concerted effort to take the time and enjoy the moment. Put a plan in place for what we want to achieve in the future and then only focus on the here and now. What steps need to be completed for today-tomorrow is another day. We are planners and tend to get stuck in the constant tweaking and adjusting and watching....sometimes you just have to put it all aside and live!
What do you find contentment in?