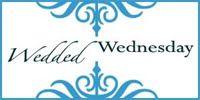 Wedded Wednesday is a collaboration
of married bloggers sharing their inspirations,
anecdotes, struggles and thoughts regarding
the amazing union of two separate people, as one.
Check out the other Wedded Wednesday bloggers at Marital-Bless

Today's Wedded Wednesday post might be a little controversial to some but it is something that the longer I'm married the stronger I feel about it-so I'm going to write about it anyway!

When hubs and I first dated, I cared a lot about what he thought. I care more than ever today but it is a different sort of caring (haha-now I know he's not going anywhere! jk, I love you babe! :)). Back when we were friends and then eventually dating...I didn't know where the relationship was going. I had hopes but all I knew was that this gorgeously sexy, integrity-filled man was showing interest in me and I really wanted that interest to keep going. So...what did I do? Well pretty much tried to make sure I always crossed my t's and dotted my i's. While still staying true to my "style", you better believe he saw me dressed in my nicest clothes, make-up (what little I wore), heels etc... He disliked lateness-I learned to be punctual (at least when it involved him). His favorite team was the Red Sox-I followed the team, learned all the players and their stats. He grew up playing ice hockey every day-I learned the rules for that....I'm sure you can see where this is going. I cared a lot about what he thought, not in a desperate sort of way but in a besotted teenage crush sort of way. :) He was the first guy I ever fell in love with, thankfully the only guy I ever fell in love with!

When we dated and were engaged, I continued this trend, though he probably saw me in scrubs and minus a shower a few more times than before. And then wooooaaaaahhh, we were married and it's like "Hi, actually you married a different person" lol....quite a bit of an exaggeration there but I've definitely noticed a trend that I'm not happy about-the longer we are married, the less time I tend to take putting a little effort into myself. :( Especially when we are just laying around the house or hanging out at home! Poor hubs! He never complains but he sees an awful lot more of sweats and jeans and t-shirts than he used to! He claims that I'm just as cute in those clothes but I see the way his eyes light up when I take the time and effort to put on something nice.

Sometimes I wonder if I only recognize when he appreciates what I'm wearing because I feel better about myself when I put the effort in and thus, am more ok with accepting and acknowledging that appreciation or if really...it's just because I look much better showered and dressed cute! I'm tempted to say the latter!
I know this is something that I feel strongly about wanting to tackle before we have kids because any bad habits I've picked up now...will only get worse when children start getting added to the mix and my body starts changing along with significantly less time. This is something that actually made my new year's resolutions this year and so far it's been going pretty well. I don't get decked out every day but it has changed a number of my habits-even affected how I shop! I've discovered all sorts of new designers and shops and I've been very excited to start pulling boxes out of storage with all my clothes, I am extremely looking forward to having a closet and my vanity back again, it will make this whole process so much easier!