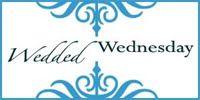 Wedded Wednesday is a collaboration
of married bloggers sharing their inspirations,
anecdotes, struggles and thoughts regarding
the amazing union of two separate people, as one.
Check out the other Wedded Wednesday bloggers at Marital-Bless

One of the big resolutions that Hubs and I made as a couple as well as individuals was to become better at taking the time for daily devotions but together and individually. I'm happy to say that last night we cuddled up together and had our first one! We have started reading through the book "The Marriage You've Always Wanted" by Gary Chapman as well as the study guide accompaniment. Another great set of books by Gary Chapman (many of you know of his 5 Love Languages book).
I have to admit that, while it was wonderful to take the time out to sit down to read and discuss the book together, I quite honestly think that I got more out of us taking the time to shut down all other distractions and focus on each other! Often times, dates for us will consist of going out to eat or going out to do something. It seems we rarely take the time to open to sit down and exclusively focus on each other, a bad habit of ours for sure! It was refreshing to turn all the technology off for an hour, I'm hoping that this will become a habit that we carry through the rest of our lives! The books we are reading now should take us about 10 weeks and afterwards we are going to be doing the love dare devotionals, however, I'm always on the lookout for good books to add to our list, so if anyone has any suggestions, please shout them out in the comments!