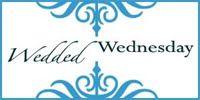 Wedded Wednesday is a collaboration
of married bloggers sharing their inspirations,
anecdotes, struggles and thoughts regarding
the amazing union of two separate people, as one.
Check out the other Wedded Wednesday bloggers at Marital-Bless
Sorry folks, this week's Wedded Wednesday is a little bit late...I wrote this and meant to hit the post button but must have hit save instead...I've been battling some sort of virus and it's been keeping my production to a minimum. I'll try to put something up later but in the meantime, here is what I wrote.
I'm so thankful for grace right now. Grace from my husband who spent several hours Tuesday night holding me and rubbing my back when I didn't feel well even though he was exhausted from a late night hockey game. Grace from a God who gives me His strength to get through work days & commitments when I feel like I don't have it in me. Subconsciously I've always known that grace was important in any relationship but lately it's come to my attention just how important it is in marriage. The daily sacrifice for your other half, the compassion, the kindness, the caring...more than anything I want my husband to look at me as that kind of graceful woman, (though having grace in movement would probably be a good thing for me to develop too).
I hope that in moments of distress and tension, I will learn to offer grace and forgiveness, rather than criticism. Many times I am took quick to offer the "right answer", a criticism or judgement...
"Understand this, my dear brothers and sisters! Let every person be quick to listen, slow to speak, slow to anger."
-James 1:19
Crosswalk suggests there are
four elements of a grace-based marriage
:
Accept Differences


Be Vulnerable


Allow Mistakes


Tell The Truth
My favorites (and my focus) right now are #'s 2 and 3 but I think they all tie in together nicely. I would love to find a mature couple that is non-family related that hubs and I could look to as role-models, particularly in an area like this but for now I'll settle with reading and learning through trial-and-error as much as I can on my own.