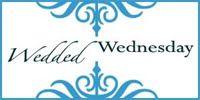 Wedded Wednesday is a collaboration
of married bloggers sharing their inspirations,
anecdotes, struggles and thoughts regarding
the amazing union of two separate people, as one.
Check out the other Wedded Wednesday bloggers at Marital-Bless
Today's Wedded Wednesday post comes out of some of the discussions that Hubs and I have been having lately. There have been a lot of talks of family and relationships and kids and the future and I've been convicted to really focus on building my husband up with words of respect, submitting to my husband and encouraging him to continue to lead our family without fear of being wrong and getting an "I-told-you-so" from me.
It just works SO WELL when one of us takes lead and we would both prefer it to be him-I much prefer behind the scenes action and we both lean towards the traditional biblical roles of marriage. As we talk about the future and decisions that need to be made, frankly some of them, I am more than happy to let him make, and others, while I know we will discuss and I will have a say in them, I am more than happy to let him implement them! It's so easy when the grumpiness takes over and we're both feeling drained, to start nitpicking at one another and being cross, shutting down the communication and stalling our relationship. When this happens I definitely have a tendency to be too hard on him and even downright mean (though that's not my intention). Hubs is such a patient man and so kind and loving towards me that sometimes I take it for granted and start thinking that he's so nice to me because really I'm just always right.....HAHAHAHAHAHA! Riiiiiiighhhht!
Currently, I am reading the book "The Power of A Woman's Words" and can I just say that I think that book was written for me? I'm not too far into the book yet but so far what I've read has made it abundantly clear to me that I need to be more careful with my words in order to respect and honor my husband. While I am always careful what I say about my husband to other's, I think I could do a better job with how I relate to my husband. Sarcasm is not ALWAYS necessary... I am excited to finish the book and draw as many nuggets of wisdom out of it as I can! Has anyone else read or heard of it? I believe the author is Sharon Jaynes.