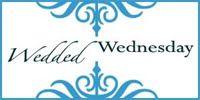 Wedded Wednesday is a collaboration
of married bloggers sharing their inspirations,
anecdotes, struggles and thoughts regarding
the amazing union of two separate people, as one.
Check out the other Wedded Wednesday bloggers at Marital-Bless
Today being the day before Thanksgiving, it only seemed appropriate to do a post on thankfulness and appreciation, though I am thankful ALL year round. I am so very blessed to be married to my husband, he really is the best husband in the world!
Given that one of my husband's top love languages is words of appreciation, I can definitely say that life in our marriage flows soooo much more smoothly when I remember to put my appreciation into words for him. Sometimes, I take for granted all the amazing and wonderful things he is and does and forget to tell him that, usually this slams me upside the head when things start getting a little funky in our communication. :) The wisdom that I've learned in the short time I've been married? Learn to verbally express appreciation/thankfulness/gratitude in your marriage (really, in all things). Men, in particular, tend to crave it as it directly links to their need for respect.
Expressing appreciation out loud is not something that comes naturally to me, I have a very sarcastic personality (as does the hubs) and the appreciation often seems to come out sounding forced or fake. Sometimes, it even sounds downright silly! It's an area of my life where I have definitely worked very hard at. Really who doesn't like to get a compliment and be appreciated? In the end, it's worth all the fumbling around when I see him beam back at me after I tell him how grateful I am for him.
Does expressing appreciation and gratitude come naturally to any of you guys or is it something you've had to learn and work at?