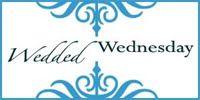 Wedded Wednesday is a collaboration
of married bloggers sharing their inspirations,
anecdotes, struggles and thoughts regarding
the amazing union of two separate people, as one.
Check out the other Wedded Wednesday bloggers at Marital-Bless
I love these wedded Wednesday! They really get me thinking about my marriage! As I was pondering on what I wanted to write about these weeks I kept coming back to the whole money and marriage differences that I know most of us probably encounter in our own relationships. Financial stress is the number one cause of divorce and turbulence in relationships. Translated, that means money causes more problems and stress than infidelity and kids! The hubby and I have been committed since day 1 to learning the best possible method to manage our fiances together.
In our own relationship, I would definitely be pegged as the "spender" and my husband as the "saver" however, at least in my mind, it's not quite that cut and dry. I will fully admit to being the bigg
er
spender in our relationship, however, I am also the frugal shopper. I am always watching for deals or discounts and I will never buy something without researching it to death and finding it at the lowest price. I do want to emphasize that I won't ever buy something
just
because it's a good deal, but I will buy something if it's something that we will be needing
and
its a good price. The husband does not shop quite like this (although he is learning!). When he needs something, he buys it without doing quite the level of research that I do. In the end it may or may not even out, I buy more than he does but at a lower cost, he buys less but doesn't necessarily buy it at the lowest price or the best quality (resulting in having to purchase again when it doesn't work). We are both CPA's and have worked a number of years in the accounting profession so we are very accustomed to handling money, number crunching, budgeting and spreadsheets. Our methodology just doesn't always match...
At the beginning of our relationship, the differences we had in handling money weren't a big deal. He had his own money and I had mine. If I was spending money, it didn't phase him because he had no concept of what my bank account looked and vice versa. Boy did things start to change as our funds started intermingling! Our funds did get combined fairly early in our relationship, not quite literally in the sense of bank accounts, but in the sense that one person would buy the groceries and the other would pay for textbooks kind of deal. I'll never forget the time I found out that the husband still bought his books from the bookstore and SOLD THEM BACK at the end of the semester!!!!! I righted that wrong immediately and showed him how to buy them online and sell them online at a profit (it's all about your timing)! I was the one who pushed him to get a credit card when we were in college in order to build his credit and for much of our day-to-day finance information, I have been the manager while he functions more as an overseer.
At this point in our marriage, we are pushing hard to pay off all the student loan debt that accrued from the four degrees we found it necessary to have. Blah. Grad school courses=2-3 times the cost of undergraduate courses=mucho debt. Because we are throwing every spare penny at the debt, there isn't much "free" money to spend. This has caused quite a bit of tension over the course of the last several months. I would spot a really fantastic deal on something that we had talked about getting and the hubby would freak! Now, to be clear, we are
not
talking strictly about wants but more along the line of items that we knew we would be purchasing within the next few months. Now to me, it made more sense to juggle the finances in order to manage the purchase of said great deal, while to the hubby it was just SPENDING MORE MONEY (see below for accurate depiction of hubby when I spend money)
Obviously, this had a tendency to cause quite a bit of a stress in our relationship. It was hard for me to sacrifice not making the purchase because I would have researched the item enough to know when it was a really good deal and how rare it was for said deal. I HATE the idea of spending anything more than I have to when I buy something. It was hard for the hubby to see a lot of money go out one month because he couldn't see it balancing out the next month yet and so it just seemed like it was spend crazy. So....what to do? We are still fine-tuning how it works best for us to handle it. Personally, we prefer to pool our money together rather than have one person pay for this and the other pay for that. We feel more "united". However, there have definitely been moments over the course of this last year of marriage where we were feeling anything but united. Marriage is all about compromise, right guys?

Until our debt is paid down, the hubby and I committed to living as frugally as possible. Recently, we have decided to have a set amount of money each month that we can spend without interference from the other person (obviously within moral reasoning). This way, if I see a good deal on something that I know we will be needing, I can spend, as long as it's within my very small budget, without him freaking out like the above photo. And he can spend his to take me out to dinner. :) Kidding!

How do you all handle money in your marriage? Were you all aware of the financial statistics surrounding money and marriage?